Product Details
Basic Info.
Model NO.:XPG-700
Certification:SGS, CE, ISO
Condition:New
Customized:Customized
Automatic Grade:Automatic
Structure:Horizontal
Voltage:380V
Weight:<50 Tons
Type:General Rubber Machinery
Type of General Rubber Machinery:Material Processing Machine
Type of Tire Machinery:Rubber Regeneration Machinery
Power:10~100kw
Using Life:≥15 Years
Warranty:1 Year
Model:Xpg-700
Adapted Max. Rubber Sheet Width:700mm
Export Markets:Global
Additional Info.
Trademark:RUNNING
Packing:Safety Wood or Plywood Crates Packaging
Standard:ISO9001: 2008; SGS, CE
Origin:China
HS Code:8477800000
Production Capacity:200sets/Month
Product Description
Batch off Cooler, Rubber Batch off Units, Rubber Sheet Batch off Cooler (XPG-700)
Lightspot
1. 20 years on batch off cooler manufacturing and exporting.
2. Delivery within 35 days.
3. Safety wood or plywood crates packing.
4. Full transportation insurance.
5. Sell to 126 countries on 6 continents.
6. One-stop rubber machinery solution in Qingdao Running Machine Co,.Ltd.
This batch-off cooler can cooling the rubber sheets from high temperature to room temperature, and applicable to any kinds of rubber materials.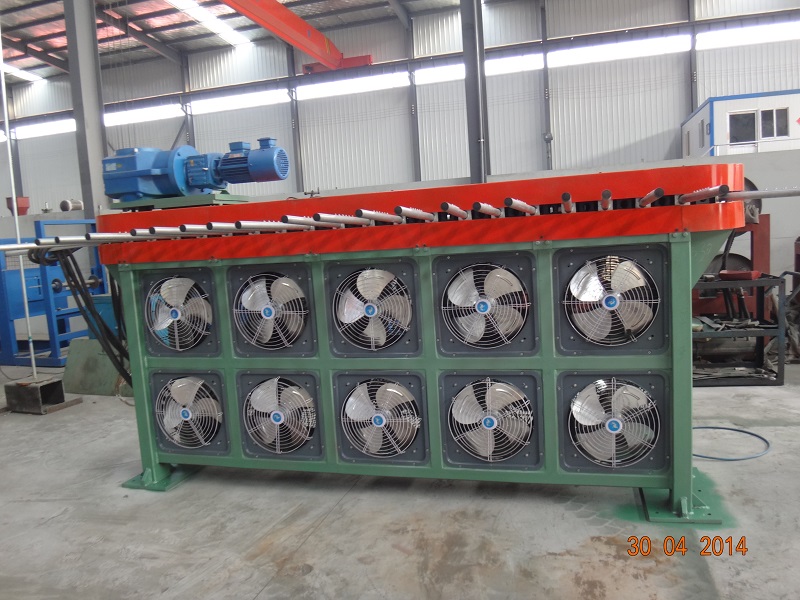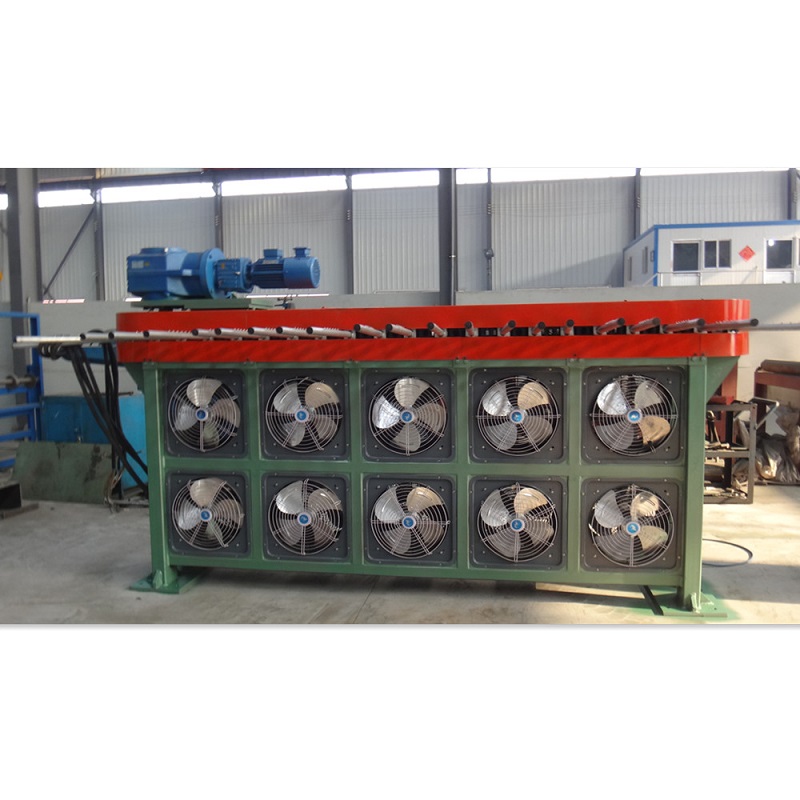 Characteristic
1. The rubber sheet cooling machine take off adopts steel conveying rollers, equipped with printer and slitter.
The take-off and lifting device are driven by a common AC inverter motor. The conveying speed ID adjustable.
2. There are two types of hanging bar driving devices. For XPG(III)-900, when the piston bars of two side oil cylinders extend,
they push the hanging bar. The one way bearing keeps the hanging bar standing when the oil cylinder cylinder piston bar retracts,
therefore the hanging bar carry out intermittent movement. Other one is driven by one AC inverter motor.
The speed of hanging bar is synchronous with the take-off and lifting device.
3. The sheet is uniformly coated with the lubricator by dipping without polluting the environment. Its cooling effect is better than the spraying.
4. The hanging up area is fully closed, which adopts the blower to blow the sheet at a slant. So it improves the air flowing direction and cooling effect.
5. The robot in the take-off is advanced inChina. The take-off can be controlled automatically.
6. The electric control system adopts a reliable and automatic PC.
NOTES:
1. The rubber batch-off cooler can be designed as a floorid construction or an over-head construction. The sheet can be output on the first floor or on the second floor or both the first and the second floor.
2. The rubber batch-off cooler is a conbined construction. Customer can add or reduce the middle support as required.
3. Customer can select the transverse strip cutter and the strip slitter according to the processing requirements.
Details:
Shiping Photos
Model

XPG-600

XPW-600

XPG-800

XPG-900

Structure

Floor-standing type

Chain-Belt type

Overhead type

Overhead type

Max. Rubber Sheet Width (mm)

600

600

800

900

Rubber Sheet thickness (mm)

4-10

2-12

4-10

6-12

Temperature over room temperature after rubber sheet cooling ( centigrade)

10

10

15

5

Linear Speed of taking-in conveyor (m/min)

3-24

3-24

3-35

4-40

Linear speed of sheet-hanging chain (m/min)

0.82

Chain-belt layer: 5

0.117-1.17

4-40

Hanging height of the sheet hanging bar (m)

1000-1500

Net

1000-1500

1400

No. of cooling fans (set)

12

20

18-26

Total power (kw)

13.7

28.8

18-34

Overall Dimension(mm)

L

1425

16800

26630

W

4500

4700

3500

H

3405

3520

5630

In addition, our machineries have exported toAmerica,Mexico,India,Vietnam,South Africa,Singapore,Malaysia,Indonisia,Australia,Sri Lankaand many other countries.

If you interested in our products mentioned above. Kindly let us know by return email. Then I will supply you with further information. Meanwhile, welcome to visit our factory!
Our Services
Our engineers can design target machines for customers and send them the drawing to confirm. We are always on the side of saving your cost.
In the process of production, we will take photos and send to customers for their track the progress.
Documents such as packing list, commercial invoice, and bill of lading etc. will be sent after the delivery.
We could supply free English foundation DWG, installation drawing, user guide, maintenance manual and part drawing.
We supply overseas engineer service and help to train your workers to operate the machine.
FAQ
1. Delivery time of the rubber machines?
This is specially designed machine according to your specific requirement.
From engineer designing to production completion, it needs about 25 to 35 days.
2. What does your factory do regarding quality control?
We pay much more importance to quality control from the very beginning to the end of production.
Every machine will be fully assembled and carefully tested before shipment.
3. What''''''''''''''''''''''''''''''''''''''''''''''''''''''''''''''''''''''''''''''''''''''''''''''''''''''''''''''''''''''''''''''''s the machine quality guarantee?
Quality guarantee time is one year.We choose world famous brand components to keep our machine in perfect working condition.
4. Are you able to give installation and commissioning overseas? How long time will it take?
Yes, we can supply overseas service and technical support but customer needs to pay for the cost of the installation.
Small machine usually takes within 2~3 days.
Big plant usually takes about 30 days.
5. How can I trust you to deliver the right machine as I ordered?
We will absolutely deliver a good quality machine as we discussed and confirmed in the order.
The core of our company culture is innovation, quality, integrity and efficiency. Also we have had much good cooperation with world famous rubber production manufacturers. If you come to our factory, we can show you''''''''''''''''''''''''''''''''''''''''''''''''''''''''''''''''''''''''''''''''''''''''''''''''''''''''''''''''''''''''''''''''re the user around us.
6. How can we go to your side?
We are located inQingdao City,Shandongprovince,China. The name of airport is Qingdao Liuting airport.
We will pick up you at the airport.
Packaging
Equipment painting completed before delivery, and then wrapped with stretch film, avoid rubbing the paint off the surface,
wooden packaging can be customized, key parts, such as electronic control box, will be wrapped by shockproof packaging materials, and then packed in wooden cases.
There are 15 experienced engineers and 108 skilled workers in our company, guaranteeing delivery on time as stipulated in the contract.
At the same time, the company established a long-term cooperative relation with cosco, for ensuring the goods arriving port on time.